New York Times
German Matchmakers Pair Lonely Leftovers and Rumbling Bellies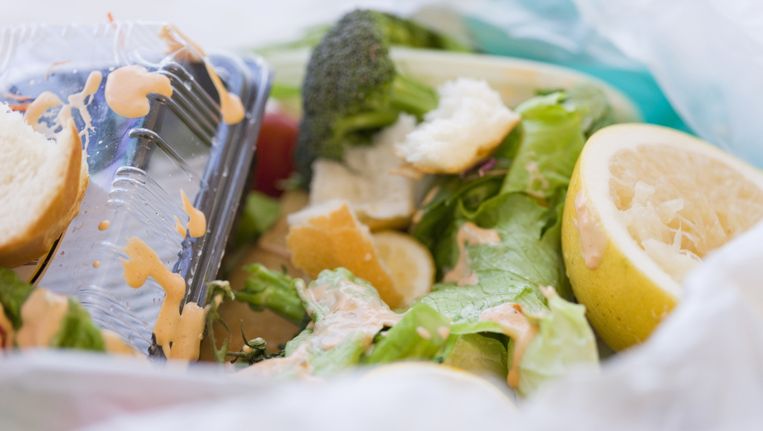 In Germany the public awareness concerning the waste of food has mounted in recent years. As an answer to the worldwide squandering of food, Germany has raised hundreds of so-called food sharing sites. Refrigerators - stocked with leftovers from private parties and restaurants, and open to the public - are just one of several initiatives aimed at keeping edibles out of the garbage.
Fresh from a bracing workout at the gym, Anton Kaiser gazed hungrily into a refrigerator, considering arugula, pineapple jam, salted butter and two bags of green grapes before reaching for a white bread roll, baked that morning. "I haven't eaten all day," he said, "so it's great.
Perhaps best of all, it was free, available in the middle of a graffitied courtyard in the Kreuzberg district of Berlin. Like the rest of the offerings in this so-called food sharing refrigerator, Kaiser's bread roll would, under normal circumstances, have gone straight into the trash.
But in Germany, where concern about wasted food has mounted in recent years, such refrigerators - stocked with leftovers from private parties and restaurants, and open to the public - are just one of several initiatives aimed at keeping edibles out of the garbage.
Food sharing
There are roughly 100 of these food sharing sites in Germany. About 50 have refrigerators, and the rest are just shelves. They are a small, offline branch of Foodsharing.de, a 2-year-old Internet platform that gives members a chance to connect with other food sharers online, should they find themselves in possession of an extra cabbage or, as one Foodsharing post put it, "too many delicious organic potatoes for one person to eat."
"Sometimes people go on vacation, and they realize they have a refrigerator full of food they can't finish," said Valentin Thurn, 51, who was a founder of the site, which now has 55,000 regular users. "Or they have a party, and there's too much food left over afterwards."
A filmmaker and journalist, Thurn had not planned to start a food revolution, or even a sharing website. But while shooting a segment about Dumpster-diving, he was shocked by what he encountered.
"The feeling I had, when I saw the great amount of edible food in the bins, was anger," he said.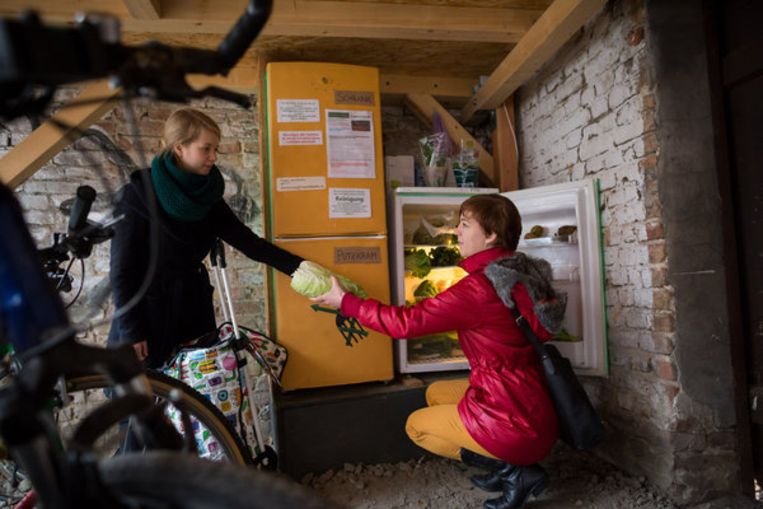 Taste the Waste
His documentary, "Taste the Waste," which was released in 2010, struck a chord in Germany. With its images of discarded lettuce, bins of bright, red tomatoes and entire warehouses of old bread, as well as emotional interviews with German farmers about potatoes that - whether too big, too small or too strangely shaped for supermarket shelves - simply rot in fields, the film became a touchstone for the burgeoning movement to reduce the wasting of food.
The idea to share food online came up soon after.
"I'm a filmmaker," Thurn said. "But people on our team said to me: 'They are sharing everything on the Internet. Why don't we share food?'??"
For safety, Thurn and his team established a few basic rules. Nothing with a "sell by" date can be shared; no fresh meat or fish is allowed; prepared food is fine, but salads that have been left out all day in the sun are not. As a rule of thumb, people should share food that they would want to eat themselves.
Under German laws regulating food distribution, sharing food between individuals is allowed. But the food sharing refrigerators and shelves operate for the most part under the radar. While there have been problems with members being rude or greedy, Thurn said, so far no one has complained of getting sick.
City officials in Berlin, which has 12 such sites, did shut one down last year because no group or person was overseeing it and documenting where the food came from, to ensure that it was safe, as required by law.
In December, Foodsharing.de will incorporate another German website, Lebensmittelretten.de. Dedicated to saving food, the site was founded by Raphael Fellmer, 31, who as a university student was so upset by an article he read about wasted food that he decided to stop shopping for groceries altogether.
Organic grocers
Working directly with organic grocers, bakeries and other stores, food savers head out in teams to pick up food, whether slightly wilted parsnips, blemished grapefruit or overripe avocados, just before the rejects end up in the trash.
"It really gives you a sense of the value of food," said Lilo Brisslinger of Berlin, one of an estimated 9,000 food savers in Germany, Austria and Switzerland. To qualify as a food saver, Brisslinger, 26, who holds a master's degree in Islamic studies, had to take a quiz. Punctuality is one of the main requirements, so prospective savers are tested on what to do in case of vacations or forgetting a pickup appointment.
At least once a week, Brisslinger collects everything from lentil soups to bakery sweets from a small organic shop near her apartment. What she cannot eat she leaves in a food sharing corner at a nearby tea store, or gives to people asking for money on trains.
Two neighbors, other single women in their 20s, always gladly accept the extras."I feel I can make people happy," Brisslinger said. "It's not a lot of work, just some time to go to the shop."
Georg Kaiser, 47, chief executive of Bio Co., a chain of slick organic markets that are among the 1,000 German stores working with the food savers, said he welcomed the opportunity to reduce his company's waste."For me, personally, it's a question of respect for people and the earth," he said. "Even if it's not sellable, it's still good food."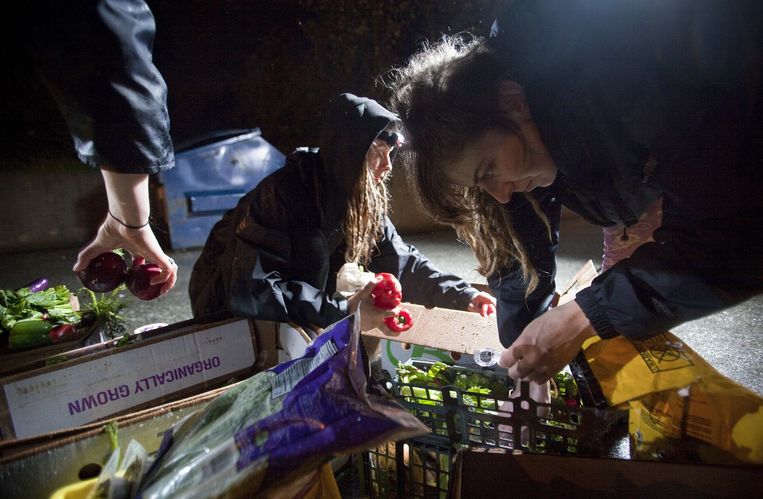 Change of mind
In the past year, food savers and sharers kept about 1,000 tons of food from the trash, organizers said."Of course, if you look nationwide, this is nothing," Thurn said. "I wouldn't consider food sharing the solution. What's more important than the rescued kilos is to change the way people think."
Sandra Teitge, one of the founders of Dinner Exchange Berlin, a project that caters meals using produce left over at shops or farmers markets at the end of a day, said she believed that overabundance had led not just to waste, but also to a lack of creativity and flexibility.
"We are used to eating and buying what we want, exactly when we want it," she said. "I grew up in East Berlin, and in East Germany, you didn't really have much. But we still managed to eat nice things."
Culinary Misfits, a cafe that opened in Berlin four months ago, hopes to address the problem of food waste from another angle. Working directly with farmers to procure three-legged carrots and knobby potatoes that supermarkets reject, the two designers behind Culinary Misfits hope to show that a beet the size of a soccer ball is just as delicious as a standard one.
"All of these supermarket carrots, they're like soldiers in their plastic bags," said Lea Brumsack, one of the cafe's owners. "What people buy, it's not natural. And it leads to, you can buy a perfectly shaped apple from New Zealand at the store, but just outside of Berlin, the trees are weighed down with apples nobody is picking."