HERBELUISTER
Laurent Garnier derde keer op één in The Greatest Switch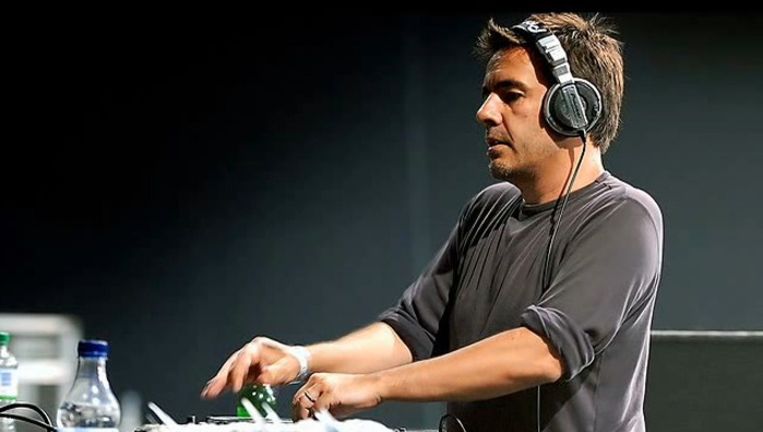 'The Man With The Red Face' is door de luisteraars van Studio Brussel uitgeroepen tot beste dancetrack aller tijden. Het nummer van Laurent Garnier staat op nummer 1 in 'The Greatest Switch', de lijst met de honderdvijftig beste dancetracks die vandaag werd uitgezonden op Studio Brussel.
Naar jaarlijkse gewoonte zond Studio Brussel vandaag The Greatest Switch uit. De afgelopen week stemden de Studio Brussel-luisteraars op hun favoriete platen en vandaag volgde dan de hoogmis voor de dancefans met een marathonuitzending.
De voorbije twee jaar stond Laurent Garnier met 'The Man With The Red Face' op de eerste plaats in The Greatest Switch en dat is dit jaar dus niet anders. 'Born Slippy' van Underworld eindigt op de tweede plaats. 'Come Alive' van onze landgenoot Netsky vervolledigt het podium. Beluister hieronder de volledige top-10. Verderop het artikel vind je de volledige hitlijst. Dansen, dansen, dansen!
1. The Man With The Red Face - Laurent Garnier
2. Born Slippy - Underworld
3. Come Alive - Netsky
4. Harder, Better, Faster, Stronger (live) - Daft Punk
5. Universal Nation - Push
6. La Rock 01 - Vitalic
7. God Is A DJ - Faithless
8. Housewife - Daan
9. Levels - Avicii
10. Knights Of The Jaguar - DJ Rolando & Aztec Mystic
11 GOOSE - Synrise
12 SWEDISH HOUSE MAFFIA - One
13 CHEMICAL BROTHERS - Hey Boy Hey Girl
14 DAFT PUNK - Around The World
15 JEFF MILLS - The Bells
16 PAUL & FRITZ KALKBRENNER - Sky And Sand
17 JAYDEE - Plastic Dreams
18 BOOKA SHADE FEAT M.A.N.D.Y. - Body Language
19 FAITHLESS - Insomnia
20 KID CUDI - Pursuit Of Happiness (Steve Aoki remix)
21 AGE OF LOVE - Age Of Love (Jam & Spoon Watch Out For Stella remix)
22 GREEN VELVET - Flash
23 ANNE CLARKE - Our Darkness
24 THE PRODIGY - Voodoo People (Pendulum remix)
25 ZOMBIE NATION - Kernkraft 400
26 D-NOTE - Shed My Skin
27 DAFT PUNK - One More Time
28 AT THE VILLA PEOPLE - Open Your Eyes
29 NEW ORDER - Blue Monday
30 MOBY - Go
31 CJ BOLLAND - The Prophet
32 FIOCCO - Afflito
33 DAFT PUNK - Rollin' & scratchin'
34 LAURENT GARNIER - The Sound Of The Big Babou
35 DIGITALISM - Zdarlight
36 MOBY - Feeling So Real
37 FEIST - My Moon My Man (Boys Noize remix)
38 ENERGY 52 - Cafe Del Mar (Three 'n One remix)
39 DAVE CLARKE - Southside
40 APHEX TWIN - Windowlicker
41 PENDULUM - Blood Sugar
42 OXIA - Domino
43 DJUMA SOUNDSYSTEM - Les Djinns (Trentemöller remix)
44 DAFT PUNK - Da Funk
45 DELERIUM - Silence (Sanctuary remix)
46 NATHAN FAKE - The Sky Was Pink (James Holden remix)
47 FATBOY SLIM - Right Here Right Now
48 JONES & STEPHENSON - The First Rebirth
49 YEAH YEAH YEAHS - Heads Will Roll (A-Trak remix)
50 DAAN - Swedish Designer Drugs
undefined
51 THE PRODIGY- Smack My Bitch Up
52 BOOKASHADE - In White Rooms
53 PLASTIKMAN - Spastik
54 EMMANUEL TOP - Acid Phase
55 BASEMENT JAXX - Where's Your Head At?
56 FISCHERSPOONER - Emerge
57 UNDERWORLD - Rez
58 GREEN VELVET - La La Land
59 PRAGA KHAN - Breakfast In Vegas
60 FAITHLESS - We Come 1
61 BOMFUNK MC's - Freestyler
62 MOBY - Hymn
63 SNAP - Rhythm Is A Dancer
64 ROYKSOPP - What Else Is There? (Trentemöller remix)
65 MARTIN SOLVEIG - Hello
66 CROOKERS - Knobbers
67 THE SUBS - Kiss My Trance
68 ARMAND VAN HELDEN - My My My
69 FRONT 242 - Headhunter
70 THE BLOODY BEETROOTS FEAT STEVE AOKI - Warp 9,1
71 LAURENT GARNIER - Crispy Bacon
72 THE PRODIGY - No Good (Start The Dance)
73 DIZZEE RASCAL - Bonkers
74 BOYS NOIZE - Oh! (A-Trak remix)
75 MR OIZO - Flat Beat
76 RUSKO - Everyday (Netsky remix)
77 IDA ENGBERG - Disco Volante
78 THE NEON JUDGEMENT - TV Treated
79 FELIX DA HOUSECAT - Silver Screen Shower Scene
80 DAFT PUNK - Aerodynamic
81 THUNDERBALL - Bonzai Channel One
82 DJ FRESH - Hot Right Now
83 TRENTEMOLLER & ANE TROLLE - Moan
84 TOCADISCO - Morumbi
85 THE PRODIGY - Out Of Space
86 MASSIVE ATTACK - Unfinished Sympathy
87 MGMT - Kids (Soulwax remix)
88 DONNA SUMMER - I Feel Love
89 SHAMEBOY - Rechoque
90 ORBITAL - The Box
91 JUSTICE - D.A.N.C.E.
92 KNIFE PARTY - Internet Friends
93 PROXY - Raven
94 NETSKY - Iron Heart
95 101 - Rock To The Beat
96 MAJOR LAZER - Pon De Floor
97 NINA SIMONE & FELIX DA HOUSECAT - Sinnerman
98 TIESTO - Traffic
99 CHEMICAL BROTHERS FEAT. Q-TIP - Galvanize
100 THE PRODIGY - Firestarter
101 AMNESIA - Ibiza
102 FRANKIE KNUCKLES & JAMIE PRINCIPLE - Your Love
103 ROBIN S - Show Me Love
104 DJ FRESH - Louder
105 BOLZ BOLZ - Take A Walk (Dima Neo Romantic remix)
106 THE KILLERS - Mr.Brightside (Thin White Duke remix)
107 BOB MARLEY & FUNKSTAR DELUXE - Sun Is Shining
108 BURIAL - Archangel
109 BENNY BENASSI FEAT. THE BIZ - Satisfaction
110 ALTER EGO - Rocker
111 FATBOY SLIM - The Rockafeller skank
112 PUBLIC ENERGY - Three O Three
113 SLAM & TYRONE VISIONARY PALMER - Lifetimes
114 CASSIUS - Feeling For You
115 FAITHLESS - Salva Mea
116 T 99 - Anasthasia
117 CHEMICAL BROTHERS - Block Rockin' Beats
118 FELIX DA HOUSECAT - Madame Hollywood
119 ARMAND VAN HELDEN - You Don't Know Me
120 KID CUDI VS. CROOKERS - Day 'n' Nite
121 THE SUBS - Music Is The New Religion
122 GOOSE - Bring It on
123 TIGA & ZYNTHERIUS - Sunglasses At Night
124 STARDUST - Music Sounds Better With You
125 NETSKY - Love Has Gone
126 DUCK SAUCE - Barbra Streisand
127 TECHNOTRONIC - Pump Up The Jam
128 KRAFTWERK - The Robots
129 THREE DRIVES ON A VINYL - Greece 2000
130 BOYS NOIZE - & Down
131. IXXEL - Drop That Beat
132. SUB FOCUS - Rock It
133. ALAN BRAXE & FRED FALKE - Intro
134. TOCADISCO - Streetgirls
135. JUSTICE - Phantom pt 2
136. DAFT PUNK - Technologic
137. GUI BORATTO - No Turning Back
138. GREEN VELVET - Answering Machine
139. TELEX - Moskow Diskow
140. ETIENNE DE CRECY - Prix Choc
141 ECSTASY CLUB - Jesus Loves The Acid
142 CHEMICAL BROTHERS & ALI LOVE - Do it Again
143 CHROMEO - Needy Girl
144 MARSHALL JEFFERSON - Move Your Body
145 T.RAUMSCHMIERE - Monstertruckdriver
146 ROGER SANCHEZ - Another Chance
147 REPRAZENT/RONI SIZE - Brown Paper Bag
148 ERIC PRYDZ - Pjanoo
149 LIL LOUIS - French Kiss
150 LEILA K - Open Sesame