New York Times
Pippi Longstocking Ignites a Debate on Race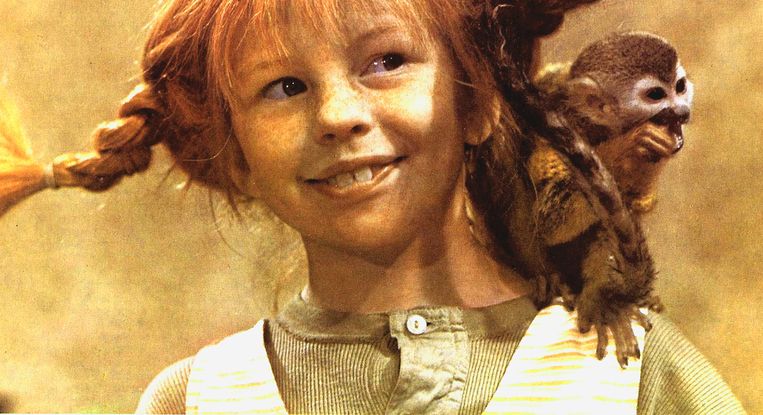 Since she burst onto the scene in 1945 with her mismatched socks, abundant freckles and two red braids sticking straight out of her head, Pippi Longstocking, a rambunctious, joyful girl strong enough to lift horses, has become a touchstone for generations of children who have read her in 65 languages worldwide.
In Sweden, Pippi is something more: a national treasure and embodiment of the country's egalitarian spirit. So when the Swedish national broadcaster announced this fall that it would edit two scenes that it considered offensive in a 1969 television series about Pippi - including one in which she says her father is "king of the Negroes," using a Swedish word now viewed as a racial slur - it hit a nerve.
The series was based on the Pippi Longstocking books by Astrid Lindgren, the first of which were published between 1945 and 1948. Defenders of the decision, including the heirs of Lindgren, who died in 2002, said the change respected the spirit of the author. Even in 1970, she had called the term outdated and said she had not meant to offend. But many others - influential opinion columnists and tens of thousands of people who answered a Facebook poll on the website of Sweden's largest daily newspaper this fall - said they opposed the revision, some accusing the broadcaster, SVT, of politically correct censorship.
Coming just weeks after a hard-right party with skinhead roots won an unprecedented 13 percent of the vote in national elections, and following other recent controversies over caricatures in children's books in Sweden, the Pippi flap has tapped into a growing and often uncomfortable debate. It concerns ethnicity in a country that prides itself on its egalitarianism but in which ethnic minorities, a small percentage of the country's 9 million people, have only recently begun to have a voice.
"When it comes to feminism, we're better; when it comes to racism, we're behind," said Swedish playwright and novelist Jonas Hassen Khemiri, who added that he had grown up reading and watching Pippi and welcomed the changes.
Khemiri said that in an increasingly globalized world - and after the country had taken in hundreds of thousands of immigrants and asylum seekers in recent years - some Swedes were using Pippi to hold on to a traditional idea of Swedishness. "The few things that are Swedish have become a battlefield where people are trying to defend their fantasies of that nation," Khemiri said. "It's very hard to defend this naïve idea of an authentic, simple past with clear-cut boundaries."
Nils Nyman, 50, one of Lindgren's seven grandchildren and the chief executive of the family company that oversees the lucrative rights to her work, said he was "a little bit surprised" that the changes had generated "so much fuss."
But in Sweden, "everyone has a relationship to Pippi Longstocking," he continued. "It's in many ways holy. And when you change something that's holy, a lot of people will get excited." Nyman said the family had readily agreed to allow SVT to edit two brief scenes in the program, which will air on national television on Saturday and in a newly restored DVD. He said that not making the changes risked distracting from the books' broader message of "girl power before it was known" as such. In one scene, the racial slur has been removed so that Pippi now says, "My father is the king!" In the second, Pippi no longer pulls her eyelids upward, pretending to be Asian, yet still sings a mock Chinese song.
Erik Helmerson, a columnist at Dagens Nyheter, an opinion-setting Stockholm daily, called the changes a form of censorship. "I'm very sensitive to the fact that people are offended by the N-word," he said in an interview. "I'd never use it myself." But revising the TV series was "a huge interference into freedom of speech," he added. "Where do we draw the line? What do we cut and what do we keep? Who should decide? Who needs to be offended before we cut a word?"
Since the 1950s, the United States edition has called Pippi's father "king of the cannibals," on a South Sea island.
Nyman, the Lindgren grandson, said the family honored the broadcaster's desire to change the TV version but chose to keep the term in future editions of the books. In 2006, the family added a preface explaining that today, the word is considered "offensive," but that when the books first appeared, "Negro was a common expression for people with black skin who lived in other parts of the world than ours."
It continues: "Almost no black people lived in the Nordic countries, very few Swedish children had seen any in real life, and television didn't exist here. Negroes were something exotic." The preface points out that nowhere in the books is Pippi seen "acting biased or prejudiced."
Kristina Belter, 28, an elementary-school teacher in Stockholm, said she thought that SVT should act in the same spirit. "I think Astrid Lindgren's books are like a part of our culture, so I can understand why they did it," she said. "But if you leave it as it was, it can be an opportunity to discuss these things with children, about the difference between then and now."
But Paulette Rosas Hott, the head of business development at SVT, said the broadcaster couldn't expect children to understand the context of scenes now widely considered offensive. "We live in a Sweden that is multicultural, and the kids should feel included in what we broadcast," she said.